PIRMOJI KELIONĖ Į ŠAŠKIŲ ŠALĮ
VLADAS VALANTINAS
2003 m. Tiražas 1000 egz.

Ši 114 puslapių knygelė – tai pirmasis žygis į šaškių šalį. Tai šaškių žaidimo vadovėlis, skirtas pradedantiesiems. Knyga skirta treneriams, mokytojams, būrelių vadovams ir savarankiškam mokymuisi.
This 114 pages book is a first trip into country of draughts. This is a draughts game guide for beginners. The book is suitable for coaches, teachers, club leaders and self-study. 
---
52 – ASIS LIETUVOS PAPRASTŲJŲ ŠAŠKIŲ ČEMPIONATAS
VLADAS VALANTINAS
2002 m. Tiražas 50 egz.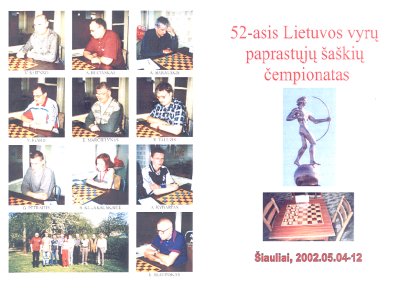 Čempionato partijų rinkinėlis (88 partijos) su spalvotomis dalyvių nuotraukomis. 
The collection games of the 52 th Lithuanian Russian draughts championship (88 games) with color photos of participants. 
---
ŠAŠKIŲ MINI ETIUDAI
VLADAS VALANTINAS
2001 m. Tiražas 150 egz.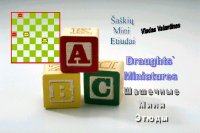 Šaškių knygelė – kartoteka pradedantiesiems. Ją galima sukarpyti ir tuomet turėsite kartoteką iš 35 užduočių kortelių, kuriose bus tik po dvi baltąsias ir dvi juodąsias šaškes. Susidėjus lentoje užduotį reikia ją spręsti visiškai nejudinant šaškių rankomis. Šioje knygelėje pateikta medžiaga tinka ne tik pradedantiesiems šaškininkams, bet ir nemažai patirties turintiems bei norintiems pasitikrinti savo skaičiavimo tobulumą. Visas šias pozicijas labai naudinga žinoti, nes jos yra labai praktiškos, o kartu ir dažnai pasitaikančios šaškių turnyrinėse partijose. 
Draughts book – card index for beginners. You can cut it and get 35 card library, where each position will have 2 white and 2 black draughtsman. After you lay out the task on the draught board it must be solved in mind, without moving draughtsman by hand. The material for this book can fit not only for beginners, but also for more experienced players who want to test the precision of their mind. It is useful to know those positions as they very often can be met in tournaments. 
---
ŠAŠKIŲ HORIZONTAI
VLADAS VALANTINAS
2000 m. Tiražas 110 egz.
112 puslapių knygelėje Lietuvos paprastųjų šaškių 1997-1999 metų naujienos. 544 partijos sužaistos Lietuvos čempionato I – osios ir aukščiausios lygų varžybose. Lietuvos kompozitorių kūriniai.
In this book, containing 112 pages you will find the news on checkers in Lithuania for the years 1997-1999. The book include 544 games played in the competitions in Lithuania in the First and Upper league, and also compositions of the Lithuanian composers.
---
"DAMINĖS PAPRASTŲJŲ ŠAŠKIŲ BAIGMĖS"
VLADAS VALANTINAS
1998 m. Tiražas 400 egz.
200 puslapių enciklopedinis leidinys, kuriame yra pateikta didžioji dauguma standartinių daminių baigmių, sutinkamų paprastujų šaškių žaidime. Medžiaga susisteminta pagal jėgų santykį. Knyga gali buti naudojama, kaip vadovėlis mokomajame treniruočių procese, taip pat kaip žinynas atliekant įvairių pozicijų analizes. Gera poligrafinė kokybė. 
The book is an encyclopedic edition, 200 pages were one can find the majority of standard positions on the end game in Russian checkers. The book could be used in the training process as a text-book, and also as a reference book in analysis of different positions.
---
"PO SLEDAM ŠAŠECHNYCH SRAŽENIJ"
VLADAS VALANTINAS
1996 m. Tiražas 1000 egz.
105 puslapių knygelė rusų kalba. Joje yra 38 partijos su plačiais komentarais sužaistos autoriaus ir jo auklėtinių įvairiose varžybose. Knygelėje nagrinėjami mažai šaškių teorijos nušviesti variantai .
The book is in Russian language. Contains 105 pages. There are full analyses of 38 games played by the author and his students during different competitions. The analyses in the book address the schemes in development that are very rerly  used in the practical game.